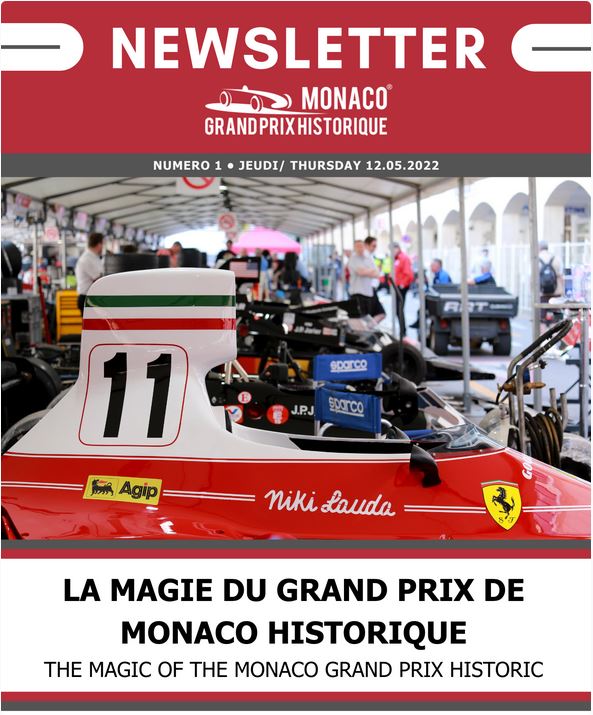 Hommages, Nouveautés, Continuité. A la veille de la 13e édition du Grand Prix de Monaco Historique, le paddock a subi une transformation avec l'arrivée de bolides mythiques depuis 2 jours. Les fans ont pu goûter aux sons assourdissants des voitures historiques. Elles seront présentes dès demain dans les rues de Monaco pour revivre les grandes pages de la légende de la Formule 1 en Principauté.
Tributes, Novelties, Continuity, and Versatility. On the first day of the 13th edition of Grand Prix de Monaco Historique, join us in welcoming these iconic cars. The paddock has undergone a transformation and is full of the deafening sounds of priceless and historic cars. The cars return to the streets of Monaco to compete for special trophies inspired by Formula One legends in the Principality.


Au bout de quelques pas dans les paddocks, vous serez transportés dans les grandes heures du sport automobile. De l'époque d'avant-guerre aux Formules 1 pilotées par Niki Lauda et Graham Hill, des voitures mythiques sont exposées sur le Quai Antoine 1er et font l'objet des vérifications techniques de dernière minute, conformément au Règlement. Petits & grands, amateurs de sport automobile ou simples promeneurs, traversent les paddocks pour apercevoir des bolides mythiques et entendre le rugissement de leurs moteurs. Tour d'horizon des voitures emblématiques qui seront présentes ce week-end. Les Paddocks seront ouverts durant ces 3 jours à tous les détenteurs de billets tribunes.

When you first walk into the paddock, you are transported back in time to the sounds of historic motorsport moments. From the Pre-War era, to the cars driven by Niki Lauda and Graham Hill, the cars are lined up getting their last minute checks in. Everyone from families to motorsport lovers are walking around trying to get a glimpse of the cars and hear the roar of the engines. If you can't see the cars, you can definitely hear them as you make your way past the grandstands and La Rascasse. Take a close up look below at some of the iconic cars joining us this weekend. The paddock will be open this weekend to all ticket holders – so don't miss out!
Articolo tratto da media@acm.mc
Articolo completo visualizzabile online